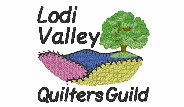 THE LODI VALLEY
QUILTING GUILD
The purpose of the guild is to preserve the traditions and history of quiltmaking; to foster an awareness of and be receptive to creative innovations in the art; to promote and sponsor interest and appreciation in all areas of quilt making among our members and the general public, and to foster fellowship and the exchange of ideas. How do you say all of that in one short sentence, To Educate and Entertain Quilters!
Membership for 2022 - 2023 is $30 and is open to anyone who quilts, likes quilts or has an interest in quilting, regardless of their skills. Membership is currently not limited, however, given the space limitations and growing size of the guild, membership may be limited in the future. Our membership year is September 1 - Aug 31.
​
To join, simply fill out the online membership form here, or the link to the pdf form below (print and fill out), or come to a meeting and fill out a form in person. Dues can then be paid via check ($30), or online through PayPal ($32). If you would like to check us out before you join, the first meeting is free. After that, you can either join, or pay $3.00 per meeting. At times, we have a paid speaker and the fee is higher for non-members, so if you are concerned, be sure and check first.
If you are not familiar with our guild and your first contact with us is online, we would be pleased to hear from you! Please let us know what your needs and questions are, we will be more than happy to help.
2022-2023 Membership PDF (print and mail, $30)
Or pay Membership via PayPal ($32) with your PayPal account or a credit card. Remember to fill out online membership form if paying by PayPal.