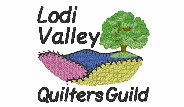 The Lodi Valley Quilt Academy is a one-day event sponsored each spring by the Lodi Valley Quilters Guild (LVQG). The "schoolhouse" includes lectures/classes, vendors, a quilt exhibit, and lunch for 350-400 participants. It is a highly anticipated quilter's educational academy and registration does fill quickly.

Committee positions: LVQG members please consider joining the team for this great event! Quilt Academy Committee Director Descriptions. Many volunteers are needed to organize (committee) and run the Academy each year. Volunteer needs will be posted closer to event.

Donations: Do you have quilt fabric, kits, tools, patterns, books, notions, etc. that you purchased and are asking "why did I buy that"? We would like to suggest you donate the items to the Quilt Academy which we will use for door prizes. There are donation bins at the monthly Guild meetings or you can let us know so we can make arrangements for pickup: please contact lodiquiltacademy@gmail.com

Vendors: If you wish to vend at Quilt Academy you must also give/teach an education class. For more information email us at lodiquiltacademy@gmail.com and the Vendor Director will get in touch with you with more details for 2023. Thank you for your support.