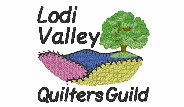 Our Annual Fall Retreat for members only will be on October 20 to 23, 2022, at the Wintergreen in Wisconsin Dells. Challenge for 2022...SHADES OF PINK.
Registration and more info coming in September 2022. Retreat Supply List
"Garden of Quilts" Quilt Show with Sheboygan County Quilters Guild will be held on Saturday, September 24th, 2022. Time: 9:00 a.m. to 4:00 p.m.
Location: Sheboygan County Christian School Campus, 929 Greenfield Avenue, Sheboygan.
Admission: $5.00. Free admission for those 12 years of age or younger.
For more information, visit www.sheboyganquiltersguild.org or Sheboygan County Quilters Guild Facebook page.
September 12

th




2nd Monday
Membership Renewal, Games - get to know your fellow members, Cash Prizes (???) Refreshments (???) Super Duper Show & Tell, etc. etc.
Misty Cole, "Poison Bottles and Trunk Show"
Guild meetings are held at United Methodist Church in Lodi, WI on the first Monday of each month (second Monday if the first is a legal holiday) at 7:00 p.m. Meetings are open to everyone. Members come free, non-members may come for free to their first meeting, $3.00 per meeting after that. At times, there may be a higher fee charged to non-members due to the program, speaker, or event.
2022
January 3rd: Julia McLeod, "Everything but the Cotton"
February 7th: Kena Dorsey, "The Bold & Beautiful - Using Vibrant African Wax Prints"
March 7th: Canceled Due to Weather
April 4th: Jane Sassaman, "Textile Treasure Garden"
May 2nd: Bill and Barb Gover of Thread and Timber, "The T&T Roadshow"
June 6th: Deanna Springer of Nancy Zieman Productions
July 11th: Phyllis Fay of Stitchin' in the Ditch, "Studio 180 Designs"
July 11th: Phyllis Fay -Phyllis Fay's Rapid Fire Lemoyne Star Workshop


2021
January 4: Birgit Ruotsala, "Accidental Quilter featuring Mandala Designs"
February 1: Teresa Duryea Wong, "American Cotton, Farm to Quilt"
March 1: March Mystery Meeting!
April 5: Ellen Lindner, "Confessions of a Fabric Whisperer"
May 3: Carrie Zizza, "Deep Dive Into Needles, Thread, Batting, and Fabric"
June 7: Patricia Belyea, "The Alluring World of Japanese Yukata Quilts"
July 12: David Owen Hastings, "Minimal Design, Maximum Impact"
August 2: Andi Stanfield, "The True Blue Quilts Lecture: Monochromatic Quilts"
September 13th: Patti Hellenbrand, "Have Your Cake and Make it Too"
October 4th: Natalie Santini, "Climbing Expectations and Quilting Stories"
November 1st: Cheryl Schenck, "Bindings, Labels, and Sleeves, Oh My!"
December 6th: Maria Shell, "Patchwork to Artwork - Journey of an Alaskan Quilter"
2020
January 6: Beth Ferrier, "Will you make me a quilt?"
February 3: Joanie Zeier Poole
March 2: Gudrun Erla
April 6: Maria DeGroot, "Quilting with Precuts"
August 3: Jini MacAdam, "Quilted A.F." (Absolutely Fearlessly)
September 14: Amy Friend, "Intentional Piecing"
October 5: Nina Clotfelter, "THREADS - What's the BIG deal?"
November 2: Gloria Loughman, "Quilted Landscape"
December 7: Susan Carlson, "Collage Quilts"

2019
January 7: Kim Lapacek, "Accidentally on Purpose"
February 4: Natalie Santini, "Just Go For It, No Fear Sewing"
March 4: Jen Carlton Bailly, "Fear, Failure, and Creativity"
April 1: Catherine Redford, "Trip Around the World in Folk Art Stitches"
May 6: Nicole Neblett, "Making of a Modern Quilter"
June 3: Sam Hunter, "The History of Word Quilts"
July 1: Carol Butzke, quilt appraiser and historian, "Paisley"
August 5: Trish Frankland, "Modern? Or Not?"
September 9: Linda Halpin, "1 x 1: Quilts Using 1" x 1" Half Square Triangles"
October 7: Lori Dickman, "Successful Strategies for Machine Quilting"
November 4: Kipp Inglis, "A Botanical Dyery"
December 2: Member show and tell and mini workshops
2018
January 8 - Chris Lynn Kirsch, "Compass Capers"
February 5 - Sara Lawson of Sew Sweetness, "Purses & Totes"
March 5 - Peggy Aare, paper piecing trunk show
April 2 - Amy Milne of the Quilt Alliance
May 7 - Laurie Ceesay of Artsy Chick Quilts, "Portrait Quilts"
June 4 - Cathy Geier, "Landscape Quilts"
July 2 - Heidi Parkes, "Mending and Reuse Philosophy"
August 6 - Phyllis Fay, "Rescue My Studio"
September 10: Mickey Mowry, "Quilts With Lots of Tiny Pieces"
October 1: Ruth Ann Berry, "Bargello"
November 5: Guild Party!
December 3: Tess Imobersteg, "Zentangle"

2017
September 11 - Tara Curtis, "Wefty Needle Fabric Weaving" (2nd Monday)
October 2 - Lil' Rev, "Scraps of Quilting" musical program
November 6 - Lee Heinrich, "Modern Traditionalism"
December 4 - Allison Rainboth, "Civil War Quilts"