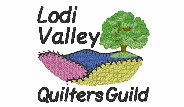 This group is the charitable arm of the guild. They usually meet on the Friday following the guild meetings at 9:00 a.m. until around noon at the Lodi United Methodist Church, 130 Locust Street in Lodi. If you are able, please bring your machine, but we always have plenty of hand work to do. Items are made for various community groups and will be listed on this website. Pillowcases are always welcome for Lodi Essentials and Reach Out Lodi.

Watch the newsletter for meetings notices and times.
Kits are available, please pick up at meetings or contact Dotty Sutfin or 608-332-0961. For more information on Hearts and Hands please contact Dotty.

Past Donations:
Quilts to Sauk EMS, Quilts to Divine Savior Rehab, Wheelchair Bags to Divine Savior, Catheter Bags for Divine Savior, Pillowcases to Reach Out Lodi, Fleece blankets to Sandy Lake, Ontario, Canada. (This is an Indian Reservation that the Lodi United Methodist Church does mission work)


Blue Bar Quilts in Middleton (University Ave) is now a drop off site for Hearts and Hands donations.
​
​